Weer een forummer spoorloos verdwenen of geband ?
Na @Ietee nu @TR3B, wat scheelt er met die mens(en) mods ?
Moest er iemand nog meelezen, deze link bevestigd de link van @ TR3B voordien.
http://xenophilius.wordpress.com/201...-ufo-are-real/
Extraterrestrial UFO Are Real : Ben Rich Lockheed Skunk Works CEO Admitted In His Deathbed Confession
Ben Rich Lockheed Skunk Works CEO
had admitted in his Deathbed Confession that Extraterrestrial UFO visitors are real and the U.S. Military
travel among stars
.
According to article published in May 2010 issue of the Mufon UFO Journal …- Ben Rich, the "Father of the Stealth Fighter-Bomber" and former head of Lockheed Skunk Works,had once let out information about Extraterrestrial UFO Visitors Are Real And U.S. Military Travel To Stars
What he said might be new to many people today, but he revealed the information before his death in January 1995. His statements helped to give credence to reports that the U.S. military has been flying vehicles that mimic alien craft.
The article was written by Tom Keller, an aerospace engineer who has worked as a computer systems analyst for NASA's Jet Propulsion Laboratory.
1 : "Inside the Skunk Works (Lockheed's secret research and development entity), we were a small, intensely cohesive group consisting of about fifty veteran engineers and designers and a hundred or so expert machinists and shop workers. Our forte was building technologically advanced airplanes of small number and of high class for highly secret missions."
2 : "We already have the means to travel among the stars, but these technologies are locked up in black projects, and it would take an act of God to ever get them out to benefit humanity. Anything you can imagine, we already know how to do."
3 : "We now have the technology to take ET home. No, it won't take someone's lifetime to do it. There is an error in the equations. We know what it is. We now have the capability to travel to the stars. First, you have to understand that we will not get to the stars using chemical propulsion. Second, we have to devise a new propulsion technology. What we have to do is find out where Einstein went wrong."
4 : When Rich was asked how UFO propulsion worked, he said, "Let me ask you. How does ESP work?" The questioner responded with, "All points in time and space are connected?" Rich then said, "That's how it works!"
Ben Rich Lockheed Former CEO knew of extraterrestrial UFO visitors
Lockheed "Skunk Works" former CEO knew the Roswell extraterrestrial UFO influenced designs of Testor model kits for Roswell UFO models, and U.S. top secret aircraft. According to a CNI News report by Colorado resident Michael Lindemann, the design information was derived from forensic illustrations and numerous witness testimonies about the Roswell UFO, provided by William L. "Bill" McDonald.
In an e-mail, dated July 29, 1999, apparently addressed to Lindemann, McDonald referenced an excerpt of a discussion with Harold Puthoff, founder of the highly classified U.S. "remote viewing" program.
McDonald said: "Well Hal, you asked for it! Now that legendary Lockheed engineer and chief model kit designer for the Testor Corporation, John Andrews, is dead, I can announce that he personally confirmed the design connection between the Roswell Spacecraft and the Lockheed Martin Unmanned Combat Air Vehicles (UCAVs), spyplanes, Joint Strike Fighters, and Space Shuttles.
Andrews was a close personal friend of "Skunk Works" CEO Ben Rich — the hand-picked successor of Skunk Works founder Kelly Johnson and the man famous for the F-117 Nighthawk "Stealth" fighter, its "half-pint" prototype the "HAVE BLUE", and the top-secret F-19 Stealth Interceptor. Before Rich died of cancer, Andrews took my questions to him.
Dr. Ben R. Rich former Lockheed Skunk Works CEO confirmed:
1. There are 2 types of UFOs — the ones we build and ones 'they' build
. We learned from both crash retrievals and actual "hand-me-downs." The Government knew and until 1969 took an active hand in the administration of that information. After a 1969 Nixon "purge", administration was handled by an international board of directors in the private sector…
2. Nearly all "biomorphic" aerospace designs were inspired by the Roswell spacecraft — from Kelly's SR-71 Blackbird onward to today's drones, UCAVs, and aerospace craft…
3. It was Ben Rich's opinion that the public should not be told [about UFOs and extraterrestrials] . He believed they could not handle the truth — ever
. Only in the last months of his decline did he begin to feel that the "international corporate board of directors" dealing with the "Subject" could represent a bigger problem to citizens' personal freedoms under the United States Constitution than the presence of off-world visitors themselves."
Lindemann added that "Bill McDonald received the above information from Andrews from 1994 until their last phone call near Christmas in 1998." Lindemann also noted "It should also be known that Dr. Ben R. Rich attended a public aerospace designers and engineers conference in 1993 before his illness overwhelmed him in which he stated — in the presence of MUFON Orange County Section Director Jan Harzan and many others that – 'We' (i.e., the U.S. aerospace community/military industrial complex) had in it's possession the technology to "take us to the stars".
See the complete letter in May, 2010 MUFON UFO Journal from John Andrews and the hand written reply from Dr. Ben Rich. Hear more revealing testimony from Disclosure Project whistleblowers. NASA can not deny secrets discovered by UK hacker Gary McKinnon and many astronauts if it expects full funding from the Obama White House administration.
Lockheed Skunkworks Engineer USAF, and CIA Contractor Admitted : UFO Are Real
Don Phillips, "These UFOs were huge and they would just come to a stop and do a 60 degree, 45 degree, 10 degree turn, and then immediately reverse this action". During the Apollo landing, Neil Armstrong says, "They're here.They are right over there and looking at the size of those ships., it is obvious they dont like us being here". When I was working with the Skunkworks with Kelly Johnson, we signed an agreement with the government to keep very quiet about this.
Anti-gravitational research was going on. We know that there were some captured craft from 1947 in Roswell, they were real. And, yes, we really did get some technology from them. And, yes, we really did put it to work. We knew each other from what we call an unseen industry. We can term it black, deep black, or hidden.
The knowledge I have of these technologies came from the craft that were captured here. I didn`t see the craft, nor did I see the bodies, but I certainly know some of the people that did. There was no question that there were beings from outside the planet.
Are these ET people hostile? Well, if they were hostile, with their weaponry they could have destroyed us a long time ago. We got these things that are handhold scanners that scan the body and determine what the condition is. We can also treat from the same scanner.
I can tell you personally that we've been working on them. And we have ones that can diagnose and cure cancer. One of the purposes I had for founding my technology corporation in 1998 was to bring forth these technologies that can clean the air and can help get rid of the toxins, and help reduce the need for so much fossil fuel. Yes, it is time. I can tell you personally that it has already started. pp. 375 ,383.
via CGI's Mr.Ed: | via UFO blogger
Wikipedia says:
Benjamin Robert Rich (June 18, 1925 – January 5, 1995) was the second director of Lockheed's Skunk Works from 1975 to 1991, succeeding its founder, Kelly Johnson. Regarded as the "father of stealth,"[1] Ben Rich was responsible for leading the development of the F-117, the first production stealth aircraft. He also worked on the F-104, U-2, SR-71, A-12, and F-22 among others, many of which are still classified.
Another stealth worker admits ET UFOs:
Do people who work on stealth aircraft want you to believe that there are alien UFOs? Yes. Until there is incontrovertible physical evidence, however, many of us will continue to believe that this is just the cover story, a layer of gauze to confuse, a super gloss to enhance the magic
.
- - - - - - - - - - - -
link @TR3B
:
DEZE is wel STRAFFER,
wat denken jullie van 50 lichtjaren in 2 DAGEN...
Citaat:
---
Wanneer je denkt aan een reisje van 50 lichtjaren in 2 dagen, dan is dat voor ons een peulenschil. Luister maar eens naar wat Ben Rich heeft gezegd. ...
---
http://www.wanttoknow.nl/overige/biz...ek-aan-elenin/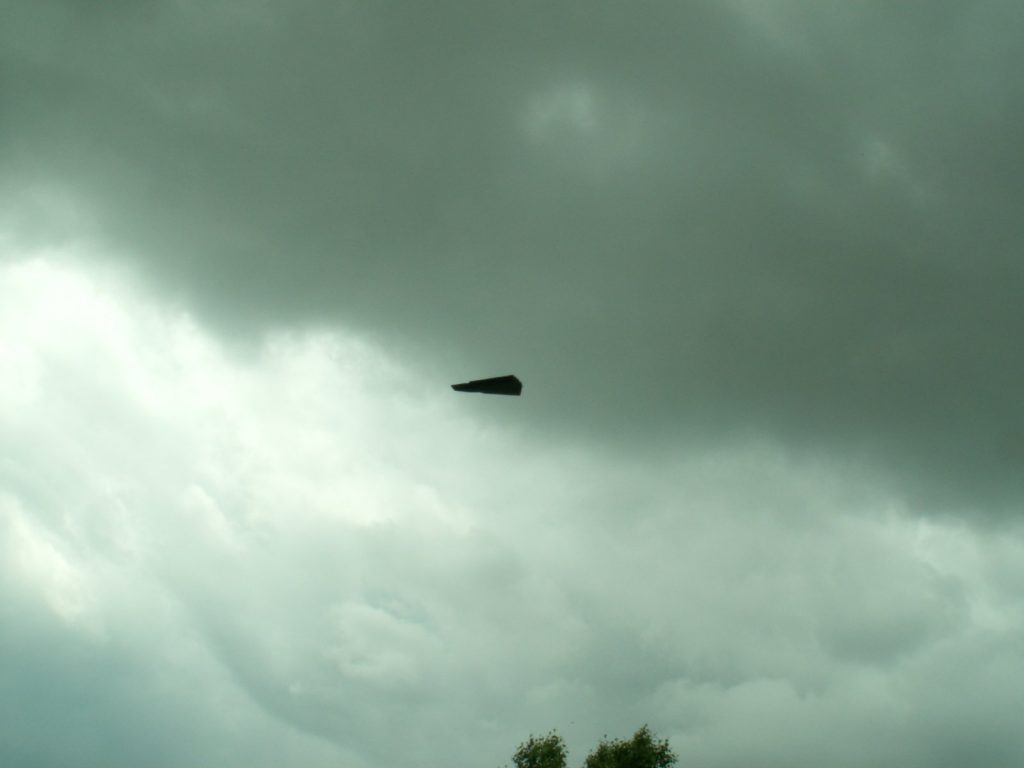 De uiterst geheime TR-3B, niet bedoeld om 'tussen de sterren te vliegen', maar tot hoogtes van 'slechts' 46 km..
[...
Vlieg je met de voertuigen relatief laag 's nachts en kun je van richting veranderen in nano-snelheid?
Ik niet! Mijn CO (commanding officer) is een keiharde kerel.. Maar ik heb wel verhalen gehoord; waarvan sommige er grappig.
Als ik deze zou vertellen zou ik snel voor het militaire gerecht staan..
'Op', wat kun je ons vertellen over het hele programma, behalve dat je naar 'Elenin' bent geweest..?
Dat het erover gaat dat ze iedereen alles snel moeten gaan vertellen, omdat het gat tussen wat we hier hebben en dat wat we toegeven, zodanig aan het vergroten is, dat het niet meer geheim te houden is.
Wanneer je denkt aan een reisje van 50 lichtjaren in 2 dagen, dan is dat voor ons een peulenschil
. Luister maar eens naar wat Ben Rich heeft gezegd. (
HIER op WantToKnow
:
http://www.wanttoknow.nl/universum/e...buitenaardsen/
) (Ben Rich was de directeur van 'Lockheed Skunk Works'. Een van zijn uitspraken: "
Er zijn 2 soorten UFOs: degene die wij hebben gebouwd en degene die 'zij' hebben gebouwd
).
Het komt allemaal aan de oppervlakte binnenkort, anders zou ik dit hier niet op dit blog zetten. We leven in één van de meest interessante tijden OOIT en de komende 5 jaar zullen de meest verbijsterende zijn, waarbij dit jaar het startpunt zal zijn. De oude garde die de baas is, en de scepter zwaait, realiseert zich dit, háát verandering, maar weet dat het onvermijdelijk is. Dank dat jullie hieraan hebben meegewerkt mannen! Ik kom later vanavond nog een keer terug.
Ik zou zeggen dat je nogal kierewiet zou moeten zijn om in een van die dingen te gaan zitten. Kunnen ze zien dat ik naar ze kijk? Zijn hun 'ogen' in staat om de vlieg te zien die ik op de korrel heb?
Feitelijk is het simpeler dan een vliegtuig besturen; het meeste gaat automatisch. Maar nog steeds worden elite geselecteerd voor deze business. En inderdaad kunnen ze de vlieg zien, die jij op de korrel hebt.. Én je gezichtsuitdrukking, en wie je feitelijk bent, via gezichtsherkenning.
Stuurt het 'US Navy ruimtecommando' vaak verkenningsmissies naar kometen en 'neo's'? Of was dit toch wel een bijzondere missie? Baart iets hen tóch zorgen rondom deze 'Elenin' of is dit meer iets van SOP (Standard Operating Procedure GJ)?
Als er iets buitengewoons gebeurd, dan wordt daar naar gekeken met een hele batterij van 'voelsprieten'. En als er dan nog vragen zijn, ja, inderdaad, dan gaan ze er naartoe om poolshoogte te nemen.
Er is één ding dat ik moet duidelijk maken, iets dat je nauwelijks duidelijk wordt, wanneer je naar TV kijkt: het is werkelijk fabelachtig 'daarbuiten'. De aarde en de planeten zijn simpelweg magnifiek en verbijsterend inspirerend. Ik heb weleens gesuggereerd om wereldleiders mee te nemen naar 'boven' en hen de pracht en praal van de ruimte te laten zien. Wanneer je ziet hoe schitterend het er is, vraag je je af waarvoor al die oorlogen dienen. En waarom we niet in staat zijn om onszelf te concentreren op het focussen van onze inspanningen om de mensheid verder te brengen.
Vooral Saturnus van dichtbij, werkelijk zinsbegoochelend…! En ook een aantal andere planeten in ander sterrenstelsel zouden je werkelijk omver blazen. Het is werkelijk heel jammer dat ze niet in staat zijn een IMAX-film (360 graden-projectie GJ) te maken, waarin wat van deze verbazingwekkende materie wordt getoond. Het is feitelijk heel triest dat het Universum voor iedereen verborgen wordt gehouden en de meeste mensen vastzitten op een rots en niet in staat zijn het Universum te zien in al zijn glorie en bloei. En de waanzinnige hoeveelheid sterren die je kunt zien, zonder de versluiering van de Aardatmosfeer, WAUW!!! Het is absoluut paradijselijk, ons Universum!
'OP', ben jij of je college-officieren weleens naar 'Nibiru/Planet X' geweest? Wanneer je er iets over kunt zeggen, wil je dan vertellen of deze planeet, binnen een paar jaar, dichtbij de Aarde zal komen?
Ik heb totaal niets gehoord van of over 'Nibiru'.
Laat ons nou niet in de steek, zoals zovelen doen.
Nee hoor, ik ben weer terug Ik kan hier niet eeuwig blijven hangen, maar het voelt waanzinnig goed om met nieuwsgierige mensen een stukje kennis te delen. Het is alsof er een gewicht van mijn borst wordt getild. Ik moet toegeven dat ik niet alles weet over deze materie, ik kom niet eens in de buurt. Maar ik ben blij dat ik kan delen wat ik wél weet.
Al het belastinggeld van de inwoners van de VS dat naar deze business gaat, terwijl niemand feitelijk weet dat het überhaupt bestaat.. Maar nogmaals: verandering ligt net om de hoek.. Ik heb zelden zoveel activiteiten en opwinding onder het volk en burgers zien ontstaan, als de laatste 6 maanden. Sommigen willen feitelijk ook niet veranderen, houden alles voor zichzelf. Maar ze komen er achter, dat ze langzaam maar zeker in de minderheid komen, vanuit dat perspectief. Ik geloof dat we in de goede richting gaan, voor wat het de geheimhouding betreft. Deze mensen zijn echter paranoïde van nature en er helemaal van doortrokken. Maar ze zijn wijs genoeg om te beseffen, dat dit een té groot geheim is om te bewaken. De mensheid verdient dit te weten.
Ik heb ergens gelezen dat de ruimte werkelijk helemaal blauw is, en niet zwart, zoals NASA ons wil doen geloven. Is dat waar?
Het is aardedonker..
'OP', kun je ons vertellen wat de grootste afstand is, vanaf de Aarde, die jij hebt gereisd. Andere sterrenstelsels..?
Ongeveer 250 ly (lichtjaar), maar anderen zijn veel en veel verder weg geweest.. En records worden nog steeds gebroken…
'OP', hebben andere landen op Aarde ook een 'Ruimtecommando', of is de VS hierin alleen met haar kunsten?
Ok, ik ben natuurlijk niet bevoegd om dit hier te vertellen, maar ik omdat ik kennelijk in dit veld werkzaam ben, zal ik vertellen wat ik heb gezien.
Ja en ja! Anderen zijn ook boven bezig. De gewone verdachten.. Maar zover wij kunnen zien, zijn ze alleen maar aan het sporten op een conventionele manier, of iets geavanceerder dan NASA aan het werk is. Ze blijven normaal gesproken in L.E.O. (lower earth orbiter = lagere baan om de Aarde) en zijn feitelijk niet van invloed op onze operationele vluchten. Ze zijn op dit moment slechts een overlast.
Omdat ik bezorgd ben als ouder over het lot van mijn kinderen, hoe kunnen wij ons voorbereiden? Hoe bereid je je fysiek en mentaal-emotioneel voor?
Lees nou eens de eerste regels van deze draad'. Dan zul je zien dat er NIETS is om je zorgen over te maken. Jij en je kinderen zal helemaal niets gebeuren..
Dus, waar praat je over, zoiets als 'first contact' of iets dergelijks?
Voor zover het 'Elenin' betreft, hoop ik alleen maar dat er genoeg 'HAM'-radio-techneuten zijn die zullen gaan luisteren. We dienen te gaan leren van onszelf en ons erfgoed. En 'Elenin' kán ons daarbij helpen.
...]
Dr. Ben Rich
, oud-topman van Skunkworks, een 'top-secret'-afdeling van luchtvaartreus Lockheed Martin. 'Skunkworks' ontwikkelde o.a. de Stealth-techniek voor de modernste generatie militaire vliegtuigen. (klik voor lead
http://www.lockheedmartin.com/capabi...lth/index.html
)
- - - - - - - - -
Maar wslk leest hier geen kat mee, maar toch zijn er hier al 2 geband ? ofzo in enkele dagen... 8O
De gebande(n) of dezelfde persoon |> ? met verdachte Alien/UFO-namen :-P :lol:
Citaat:
---
Oorspronkelijk geplaatst door post 5812
Oorspronkelijk geplaatst door |> IeTee
Je heb me overtuigd met deze rationele , vol van onbetwistbare argumenten staande reactie.
---
Citaat:
---
Oorspronkelijk geplaatst door post 5814
Oorspronkelijk geplaatst door |> TR3B
je kent de uitdrukking 'with hook and sinker' ?

Wat je ook nog steeds niet schijnt te begrijpen is dat geloofwaardigheid niet recht evenredig is met de grootte van je reactie.
In tegendeel in dit geval.
---
Deze toch onthouden:
Citaat:
---
Het komt allemaal aan de oppervlakte binnenkort, anders zou ik dit hier niet op dit blog zetten. We leven in één van de meest interessante tijden OOIT en de komende 5 jaar zullen de meest verbijsterende zijn, waarbij dit jaar het startpunt zal zijn.
---
of mss al vanaf 2012... lijkt me een heel interessant jaar te gaan worden.