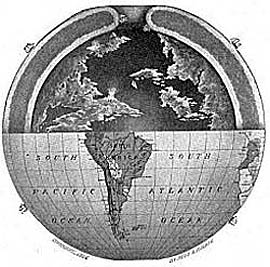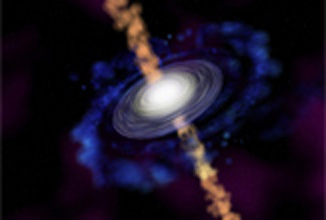 Star formation is thought to be driven by gravity-induced accretion of material distributed in space. A recent article on space.com titled Jets Spiral in 'Reverse Whirlpool' from Star illustrates this widely accepted but mistaken concept of the formation of heavenly bodies. Space.com's Jeanna Bryner reports that
"Astronomers have observed for the first time a jet of matter spiraling outward from an infant star, as if a lengthy strand of curly pasta. The enormous jet, which shoots out in two directions, is rocketing material away from the so-called protostar and into interstellar space at more than 'supersonic speeds'."
cannot help but thinking that what are called "jets" are in fact the black hole's incoming vortices. What appears as matter being expelled at near light velocity (those blobs of lighter color moving outward from the black hole) is really incoming matter lit up by powerful time-limited flashes of light escaping from the black hole's center. Matter is inward directed in the jet-cum-vortex and it encounters in its path flashes of light, giving the impression of matter exiting at near light velocity.
"Stars are thought to form at the center of rotating disks of hydrogen gas and dust", continues the article, describing the theory according to which gravitation is the principal star-forming mechanism. However, there is a problem: "The gas can't fall inward toward the star until it sheds excess spin power called angular momentum". As far as official theory goes, the vortices astronomers observed in HH 211, are thought to dissipate some of the energy of rotation which, it is argued, counter-acts accretion by giving rise to centrifugal forces.
That is the official theory, but this explanation of star formation has several problems.
One obvious question: where does the spin come from, that now needs to be dissipated and more importantly, what use does that spin have in star formation?
Secondly, the "jets" observed to accompany the formation of both stars and galaxies and which are described in this instance as "reverse whirlpools" would seem be a very inefficient mechanism if not entirely counter-productive in the formation of a star. Instead of accreting material, they are said to be dissipating both matter and spin.
Thirdly, where there is no accumulation of matter, gravity cannot accumulate more matter. Also, when mathematically modeled, gravitation-induced accretion does not resolve into an accretion disk but works in a spherically symmetric way.
So what are we overlooking here?
In my view, this is one of the important areas where physics has gone down the wrong path in its insistence that gravity "obviously" must be the force that holds everything together, and that thus it is the sole force responsible for the accumulation of any kind of concentration of matter in the universe.
- - -
Vortex as an 'accretion' force
I am proposing a different, more or less diametrically opposed view of star and galaxy formation to the theory held today. Stars are formed by vortex action. It is the spin that initiates a vortex that is the seed for star formation, not gravity.
What is today called an "accretion disk" is actually a sign of dissipation. The work of accretion in star formation is done by the concentrating forces of a double vortex. That vortex accretes interstellar gases like a giant whirlpool and it is vortex action that is causing the accumulation of matter - not gravity as generally assumed.
Spin is the causative force in forming any agglomeration of matter. It is the seed for the formation of galaxies, stars and planets. Spin forms a double vortex, which is responsible for concentrating matter that is finely distributed in the universe. Spin is also a telltale signature of the energy of life.
Spin stresses and distorts the fabric of space forming a helixactually a pair of vortices. Those vortices, like two huge whirlpools, induce a flow of space and the matter contained in it, towards the center point of torsion, the star seed. At the point of impact of the two opposing in-flowing vortices, incoming matter collides and, in an explosive fireworks display that forms a plasma ball, is thrown outwards in roughly spherical symmetry.
At a certain distance out from this central point of impact - how far depends on the rotational strength of the star seed - the outward motion of the particles accreted by the vortices is now stopped by growing gravitational influence. The matter so collected starts to form a hollow shell of first gaseous and later solid matter. That shell is roughly spherical - with openings at the poles where the vortices are free to bring in further material.
What is generally called an "accretion disk" today is formed by matter that escapes along the shell's equator due to overwhelming centrifugal forces. In the case of a star, this becomes a protoplanetary disk, a flat equatorial disk of rotating matter that provides the material needed for the formation of planets. Planets coagulate around their own planetary seeds of spin, in a similar manner as the original star. A planetary vortex pair attracts matter from the protoplanetary disk to form a planetary shell. This hollow planetary structure coagulates around the point of equilibrium between centrifugal forces and gravity.
Instead of only gravitation, we have several forces at work in star and planet formation: the centripetal (concentrating and accelerating) action of vortex, the explosive, expanding action resulting from two opposing streams of matter violently impacting at the central point, gravitation which tends to stop and compact matter that tries to escape from the exploding center and finally centrifugal force which provides a counter to gravitation, and which is responsible for the formation of any "accretion disk" which is really a disk of matter that escaped gravity through overwhelming centrifugal force.
The firework at the point of impact of the two opposing vortices is a permanent feature, a source of light and other radiation located inside both planets and stars. In planets, it remains a hidden feature only occasionally giving rise to a halo of light we see as an aurora around the polar openings. In stars, that firework is what determines a star's luminosity.
The postulated fusion reaction of hydrogen into helium is not what drives heat and luminosity of stars. It may be a secondary reaction to the real source of the star's luminosity, which is the violent impact of two vortices at the center of the star.